Murdered takeaway delivery man Yasser Abass 'was to be father again'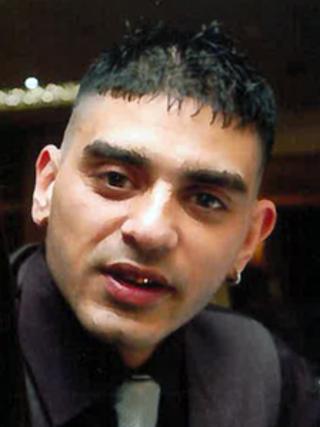 A murdered takeaway driver was due to become a father for the second time, his family has revealed.
Yasser Abass, 28, was attacked in Madison Avenue, Alumwell, in Walsall at about 00:20 BST on Saturday, and died in hospital.
Police said he was attacked by three men with weapons as he delivered a pizza with another man, who suffered minor injuries.
His family said his wife was due to give birth "in the next few days".
Mr Abass' uncle Tariq Hussain said that the couple already had a four-year-old son.
He said: "He's been looking for his dad, asking everybody where he is for the last three days and it's so hard to explain to him.
"Yasser used to take him out for a drive every day, he used to be with him all the time and now for the baby that's coming he will never, ever see his father."
'Shattered into pieces'
Mr Abass had taken the weekend job delivering pizzas two weeks ago to buy things for his new baby, Mr Hussain said.
He said: "He had done all the shopping and everything for the baby just a few days ago, he was so looking forward to it."
"His wife is not eating, she is crying all the time, it's difficult to explain in words how everyone is feeling."
Mr Hussain said more than 1,000 people attended Birchills Mosque and community centre on Thursday night after news of Mr Abass's death.
"He was lovely, everybody loved him in the area, in the community," he said.
"These men have not just taken one person's life, the whole family has been shattered into pieces, it's evil, just evil."
West Midlands Police said officers were "investigating a number of leads."