Last Gypsy family leaves illegal Meriden site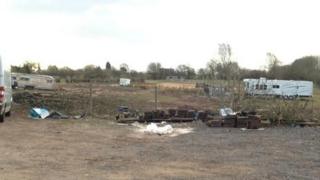 The last Gypsy family has left an illegal camp in the West Midlands after losing a legal battle to stay.
For the past three years travellers have been living on the six-acre site in Eaves Green Lane, Meriden, which they own.
The High Court dismissed two retrospective planning applications last month and ordered the families to leave by Sunday.
The last family left the site on Saturday afternoon.
Local residents previously said a camp they set up in protest would stay until Monday.
Site plans
Noah Burton, the head of a Gypsy family, bought the greenbelt land in 2009 for £100,000. He then put up eight caravan pitches.
In July 2010, Solihull Borough Council refused him retrospective planning permission for those pitches, a decision which was upheld by Eric Pickles, the Secretary of State for Communities and Local Government, in October 2011.
After applications for scaled-down plans also failed with the council and at the High Court, the travellers reached an agreement with the council to leave the site by 21 April.
Mr Burton has previously said he plans to level the site, tidy it up and try to sell it on.