Redundant Birmingham Hovis workers 'want to work'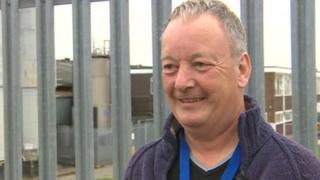 Hovis worker Graham Taylor said he found out he would be losing his job from reading a sign put up on a wall.
The 59-year-old is one of hundreds of workers made redundant from the Birmingham plant who were working their last shift on Wednesday.
The site, surrounded by other factories and industrial units in the suburb of Garretts Green, has been a bakery for almost five decades and is where more than 500 staff - many fathers and sons among them - have been happily employed.
Premier Foods, the maker of Hovis, announced its closure last November after the loss of a £75m contract with the Co-op.
'Want to work'
But Mr Taylor, said the first any workers knew about the closure was reading a sign on a wall inside the plant.
"I finished my nightshift and just saw a sign up on the wall from the management saying the factory was to close.
"It something along the lines of 'the Birmingham site is earmarked for closure.'
"That's how we found out. We were all just stunned, really stunned.
"Five hundred people are now unemployed through no fault of their own and these are people who want to work.
"People have been here since they left school and have no idea what to do."
As lorries pull in and out of neighbouring site entrances, workers inside Hovis are tidying up and cleaning in preparation for its full closure next month.
'Family impact'
"We're just cleaning the machinery and tidying up today," Mr Taylor added.
"There's a good camaraderie amongst the staff. Overall, there's just been a lack of investment in the site over the years.
"I want to find a job, I have skills but I've got to see what's out there.
"It will have a massive impact on my family.
"I've got two sons who work there, they have got families and they thought they would have a job for a lot longer than they have had - it's all been snatched away."
The friendships that have been formed over the years during the 12-hour day and nightshifts are something Mr Taylor said he would miss the most.
"It's terrible. I've a lot of friends here, you spend more time at work than you do at home don't you?
"It's going to be a wrench for everybody. Our lives have been turned upside down.
"The management that are here have tried to keep it open but for others [within the company] this closure is on their conscience and it's not really for me to say any more.
"Tomorrow will be horrible not having to get up and come into work, it'll be completely different."
'Very little chance'
Raja Hussain, who has worked at the site for 18 years, said finding new employment would be the biggest challenge facing workers.
"It's a very sad chapter for the Midlands region," he said.
"There are some jobs out there in the West Midlands but the rates are the minimum rates.
"It has taken decades to negotiate to where we are today now it's going to be a real step change."
Allied Bakeries, which makes Kingsmill and Allinson, got the £75m three-year contract with the Co-op and have taken on between 20 to 30 works from Hovis.
But John Higgins of the Bakers, Food and Allied Workers Union said "thousands" applied for the jobs.
He said he feared there was "very little chance" of staff finding work in the area.
"The job centres may say there are vacancies but from what I am being told they have to join an agency and then it's only two or so days work a week."
Mr Hussain said he felt the dominance of the big supermarkets had played a part.
He said: "The industry is struggling is because the supermarkets are so strong and can dictate anything [around costs] and there is the knock on effect and I'd like to see more being done to stop that.
"The government should help more and protect workers more.
"There are 511 people employed here but you're not just going to affect about 500 people by cutting these jobs - it'll be thousands with all of their families taken into account."