Wolverhampton A&E patients 'in corridor trolley waits'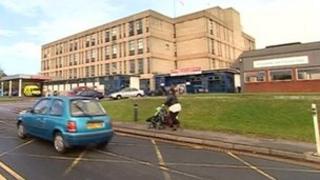 A&E patients are being forced to wait on trolleys in corridors as a result of a record number of admissions, the boss of a Wolverhampton hospital has said.
New Cross Hospital head David Loughton said the situation was "absolutely inappropriate" but was necessary to free up ambulances for 999 calls.
Its A&E recorded its busiest day ever on 17 April, seeing 365 patients.
Mr Loughton said increasing numbers of people were using the department instead of out-of-hours services.
He appealed to the public to use alternative services where possible, instead of turning up at A&E.
"We have had people turn up at the A&E department because they can't sleep," he said.
He said on the emergency department's busiest day, 124 ambulances brought patients to the hospital, which increased pressure.
Non-emergency number
Mr Loughton said he did not want patients waiting on trolleys in corridors outside A&E "but it's the lesser of two evils so we can release the ambulances to get back on the road".
The chief executive of Wolverhampton NHS Trust was speaking after the Royal College of Nursing (RCN) highlighted pressures on A&E departments across England.
The RCN said the problems had been exacerbated by the rollout of a new non-emergency 111 number, although the bad weather was also likely to have been a factor.
Mr Loughton described the past few months as the "busiest" of his career and the 111 number had led to an 8% increase in arrivals at New Cross's A&E.
But he said the problem was "brewing well before then".
"It's contributed to the increase we have seen all through the winter and for most of last year," he said.
'Generally appropriate'
He said similar pressures had been seen across the country, with 63% of acute hospitals failing to meet their A&E targets in the last quarter.
Last month, a senior boss at West Midlands Ambulance Service said patients the region were suffering because hospital bed and staff shortages meant ambulances were unable to unload patients.
NHS England said its A&E departments were seeing increasing numbers of patients and the NHS deserved a lot of credit "because broadly speaking it has kept waiting times under control".
A spokeswoman also defended the 111 number.
She said: "Pilots of NHS 111 showed that on the whole it did not lead to a significant increase in either A&E or ambulance activity, and that ambulance dispatches are generally appropriate.
"Where local clinicians do have concerns about inappropriate referrals into emergency services, they are encouraged to feed this back to their local commissioners."