West Midlands Police custody 'super block' plans approved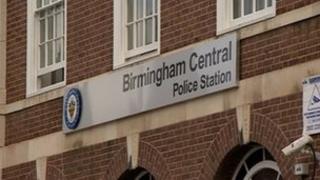 Plans to build a 60-cell custody block in the West Midlands have been approved by Sandwell Council.
West Midlands Police said the new "super block" would be built at Bromford Lane, West Bromwich, near Sandwell and Dudley Railway Station.
The 3.4-acre (1.4 hectare) site will include interview rooms, evidence gathering rooms and offices.
West Midlands Police also have plans for a second large-scale custody block at Perry Barr.
The force said building larger suites would allow them to operate more efficiently compared with multiple, smaller units.
West Midlands Police and Crime Commissioner Bob Jones said building work would get under way "as soon as possible".
"The new facility will mean better facilities for staff and officers, and safer detention for those in custody," he said.
"It will be more efficient, reducing our revenue costs, which means more resources will be available to keep officers on the streets protecting the people of the West Midlands."
The new cells will replace facilities across the force area.
Capacity at the headquarters is due to increase by about 60%, with the force hoping to sell off the main city centre station on Steelhouse Lane.
Stations are also expected to close in Edgbaston and Aston, along with other administrative bases.
West Midlands Police said the closure and refurbishment programme was expected to cost £26m, but save about £17m over the first five years alone.