Birmingham A34 Lancaster tunnel closing for nine days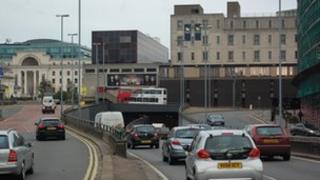 A Birmingham tunnel will shut later for nine days, ahead of two major city centre tunnels closing for six weeks.
The A34 Lancaster tunnel will be closed for refurbishment work from 22:00 BST on Friday until 06:00 BST on 6 May.
A diversion will be in place around Lancaster Circus gyratory.
The A38 St Chad's and Queensway tunnels will be completely closed to traffic from 19 July to 2 September, preceded by four weeks and followed by up to two weeks of overnight closures.
John Lamb, spokesperson for Birmingham Chamber of Commerce Group, said: "We fully understand the reasons for the closures, which are for essential maintenance.
"There will, of course, be disruption but everything possible has been done to minimise problems for motorists."
A website has been launched to help Birmingham residents, businesses and visitors plan ahead for the closures of the A38 tunnels, the city council has said.