Birmingham New Street burst water mains floods road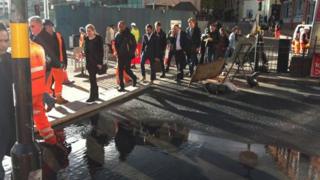 A road outside Birmingham New Street was flooded on Friday after station contractors damaged a water mains, Severn Trent said.
A new passenger concourse is due to open on Sunday morning, as part of a £598m redevelopment of the station.
Travellers had to cross Navigation Street on wooden boards after staff working on the revamp caused a water hydrant to burst at about 16:30 BST.
Network Rail said it would not affect plans to open the new concourse.
Severn Trent said floods caused limited damage and the hydrant was repaired by 22:20 BST.
A spokesperson said the water supply was affected at four properties in the area, including New Street and The Pallasades, but has now been restored.