Birmingham City star Marlon King arrested after crash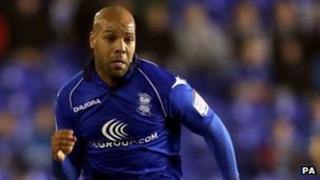 A Birmingham City footballer has been arrested after a man was left with serious injuries in a three-car crash.
Striker Marlon King, 33, was released on police bail pending further inquiries into the crash near Newark, Nottinghamshire.
A Porsche, a Volkswagen Polo and a Vauxhall Astra were involved in the incident on Friday afternoon on the A46/A17 interchange.
The seriously hurt man was airlifted to Nottingham's Queen's Medical Centre.
Other occupants in the cars also suffered from whiplash injuries.
King, whose previous clubs include Watford, Middlesbrough and Coventry City, underwent knee surgery last month.
A spokesman for Birmingham City said: "We are aware of a road traffic accident involving our player and the matter is now being investigated by the police."