Wolves FC pitch invasion prompts police probe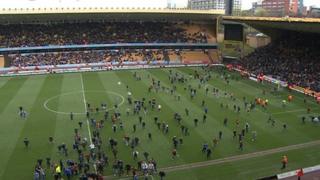 Police are set to review CCTV images following serious offences during a pitch invasion at a Championship football match.
About 300 Wolves fans went on the pitch after the 2-1 home defeat against Burnley, while advertising hoardings and a dug-out were damaged and at least one steward was assaulted.
The result at Molineux left the home side on the brink of relegation.
Wolves said it would work with West Midlands Police to review footage.
Insp Richard Cox, of West Midlands Police, said: "The encroachment of the pitch by approximately 300 Wolves supporters was a disappointing end to an otherwise exciting and trouble-free game.
"During the course of the fixture only one arrest was made and that was a teenager who attempted to enter the ground drunk.
"In the coming days, officers will be working with club officials to explore how people were able to evade security and get on to the pitch."
No injuries were reported to police.
In a statement, Wolves said: "The club has contingencies in place to deal with every eventuality, including pitch incursions.
"The pitch was cleared relatively quickly and there were no reported injuries.
"The club will work with West Midlands Police to review all the footage relating to the post-match events."