Kings Norton guillotine lock £200k restoration complete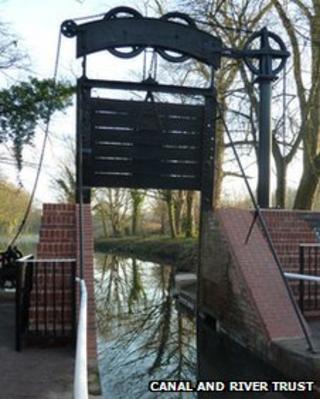 A Grade II-listed canal lock gate in Birmingham is set to be unveiled later after a £200,000 restoration.
The Canal and River Trust said the guillotine lock in Kings Norton had not been operational since 1948.
Engineers drained the section of the Stratford-upon-Avon Canal to repair the steel gates and replace about 7,000 bricks.
The trust said its project was delayed by vandals causing £2,500 of further damage since December.
The money for the restoration came from People's Postcode Lottery and English Heritage, which had placed the lock on its At Risk register in 2011.
The trust said the scheme was one of 15 different maintenance projects to be carried out on the 25-mile stretch of the Stratford-upon-Avon canal.