Carlton Pollock jailed for killing friend Lance Gregory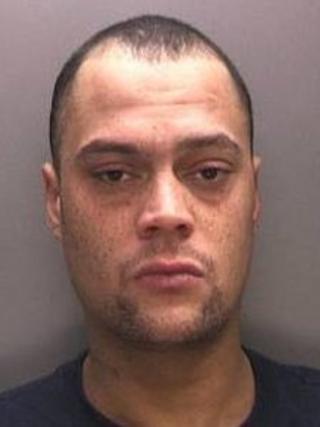 A man has been given a 10 year prison sentence after killing a friend at a meeting to settle an argument.
Lance Gregory, 26, was found on the ground in Craig Croft, Chelmsley Wood, in the early hours of 11 November. He was stabbed once in the chest.
Carlton Pollock, 25, of Moorend Avenue, handed himself in to officers at Solihull police station.
He pleaded not guilty claiming he acted in self-defence but was found guilty of manslaughter at Birmingham Crown Court.
Mr Gregory, who lived in Chelmsley Wood, was taken to Heartlands Hospital, where he later died.
Detectives investigating the attack said the pair had been drinking with other friends throughout the day and night of 10 November and had "a brief altercation" before arranging to meet again to resolve the disagreement.
Martin Lindop, from West Midlands Crown Prosecution Service, said: "Mr Gregory arrived unarmed, but Pollock arrived carrying a knife and stabbed the victim once in the chest and then ran off leaving the victim bleeding.
"Throughout this prosecution, Carlton Pollock has maintained his stance that he acted in self-defence, however, the jury at Birmingham Crown Court found this to be a lie and he was found guilty of the manslaughter of Lance Gregory."