Keanu Williams case: Boy 'suffered catalogue of injuries'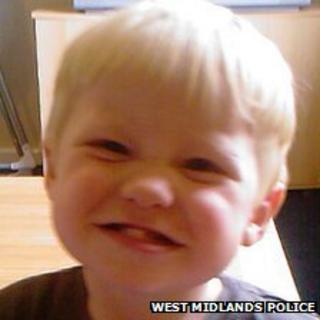 Two-year-old Keanu Williams was "an amazing little boy" who loved food and toys and had a "happy personality", his family said.
But he suffered a "catalogue of injuries" over two years before being found collapsed in his mother's partner's flat in January 2011, police said.
Keanu's mother, Rebecca Shuttleworth, 25, of Cottingham Road, Manchester, has been convicted of Keanu's murder and four counts of cruelty to a child.
Her partner Luke Southerton, 32, of Hagley Road, Birmingham, was cleared of murder but convicted of one count of cruelty to a child.
West Midlands Police said officers did not know Shuttleworth's motive for the "terrible crime".
Senior investigating officer Det Ch Insp Caroline Marsh said: "During the trial [the defendants] have blamed each other for the injuries that Keanu suffered.
"From a very young age Rebecca was involved with social services herself and had a particularly traumatic upbringing.
"It became obvious during the investigation that Rebecca was able to manipulate the local authorities and the social care system and provide explanations that were quite believable for some of Keanu's injuries."
'Chaotic' lifestyle
Keanu was found with head and chest injuries in Ward End, Birmingham, and pronounced dead at hospital.
He had "30 visible burns and injuries to his tiny body" and lived a "chaotic" and seemingly "very nomadic life", police said.
Moving with his mother, Keanu lived in several places in the last six months of his life, including with his aunt, his grandfather and Southerton.
Born in Torquay, he moved to the Midlands when he was about six months old and his mother "appears to have been supported from the day that Keanu was born", police said.
Det Ch Insp Marsh added: "[That support includes] from being placed in a mother and baby unit so she could be supported through the first few weeks of his life up to being given parenting classes when she moved back to Birmingham.
"She has said herself whilst giving evidence that she was a particularly bad mother.
"It is the opinion of the investigation team that Keanu had suffered abuse from a very, very young age, albeit it had gone unnoticed by many of the authorities."
Aunt Angela Shuttleworth, 26, said she hoped now "this is over we will be able to lay Keanu to rest and move on and have some closure".
She said she had not been able to grieve "or say goodbye to him properly", adding that the whole family had been "torn apart" and his death had left "a gaping hole in our lives".
She said: "He developed his own little happy personality...and he'd empty the toy box every time that he'd come round.
"He especially loved Igglepiggle from [BBC programme] In the Night Garden - his favourite character."
An independent serious case review, looking at agencies that may have had contact with Keanu, has been taking place into the boy's death.
Det Ch Insp Marsh said when he moved from Torquay to the Midlands there was "the possibility that he could have slipped through the net in terms of the local authority being aware of his situation".
But she added: "Prior to his death both the police and social care were involved in Keanu's life again.
"There were several referrals made to local authorities and police and incidents were investigated prior to Keanu's death. However...the independent review, the serious case review, will look at the whole of Keanu's life and investigate any missed opportunities.
"The investigation team certainly found evidence that there was a breakdown in communication between various authorities and departments."
Det Supt Claire Cowley, from the force's public protection unit, said: "We need to understand how a mother...could inflict such injuries to a child without the community feeling able to raise the alarm.
"We have dedicated public protection units in place to deal with all issues relating to vulnerable people and our local communities.
"To supplement the changes we made in our public protection units over the past three years we've undergone a major improvement to enhance neighbourhood policing and are better placed to listen to communities and their concerns."