'Dozens' on Mohammed Saleem mosque murder case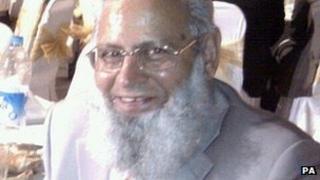 More than 100 police officers and staff are still working to find the killer of a 75-year-old man who was attacked on his way home from evening prayers.
Mohammed Saleem was stabbed after leaving the Green Lane Mosque in Small Heath, Birmingham, on 29 April.
Det Supt Mark Payne, who is leading the inquiry, said he would leave "no stone unturned" in the hunt for the killer.
Police said they had looked at footage from 62 cameras and had taken 167 witness statements so far.
Crimestoppers has offered a £10,000 reward for information over the murder, with the cash being issued upon arrest and conviction of those responsible.
The West Midlands force said the motive for the attack, which happened at about 22:30 BST, remained unclear.
Officers want to find a man seen in CCTV footage running along Wyndcliffe Road near the spot where Mr Saleem was murdered.
Mr Payne said the investigation was a "force priority" and said he wanted to reassure residents they were doing all they could to find those responsible for the murder.
He added: "We will not rest until Mohammed Saleem's killer or killers are behind bars."