Handsworth and Lozells heritage trail launched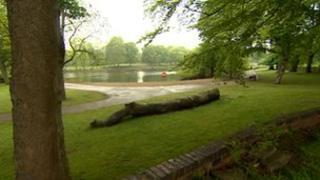 A new heritage trail has been launched in Handsworth and Lozells to highlight and promote the history of the areas.
Often associated with gang crime, shootings and riots, organiser Legacy WM said it wanted to shine a positive light on the two Birmingham suburbs.
The tour, run by volunteers, visits the Victorian Handsworth Park and St Mary's Church and nine Georgian houses.
"I want people from all over the world to come and visit here," organiser Aftab Rahman said.
"More importantly, I'd like people in the community to come and visit because I'd like them to take a bit more pride in what they have."
'Share my passion'
Two days of trouble in Lozells and Handsworth in 1985 left two people dead, 35 needing hospital treatment and up to 50 buildings damaged.
In 2005, a man was stabbed to death when trouble flared in Lozells and in 2011 parts of Birmingham again erupted into disorder when rioting spread from London to several cities around the UK.
A spokesman for Legacy WM, which has started the tour with the help of lottery funding, said: "The area often gets a negative press and most people are not aware of the significant role it has played in making Britain 'great'.
"The likes of Matthew Boulton, James Watts and William Murdoch who are seen as the forefathers of the industrial revolution, worked and lived in Handsworth."
Volunteer Geoff Greenhill said he talked about hidden histories such as Augustus Pugin's architecture.
Pugin, who was born in London in 1812, worked on many buildings and churches in the West Midlands.
Mr Greenhill said: "I felt that people need to share my passion for these buildings around the area of Handsworth and Lozells."
Organisers want to train 15 volunteers and are working with South and City College to develop an accredited course.