Meriden Gypsy camp: Appeal forces public inquiry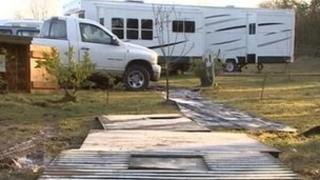 Gypsies forced to leave an illegal camp in Meriden last month have launched a bid to return to the land they own.
A public inquiry will be held in August after an appeal over Solihull Council's decision to refuse permission for two temporary pitches was lodged.
The Gypsies, who had until Tuesday to return the land to its former state, said they were not giving up the fight.
Opponents to the development called the inquiry a "waste of taxpayers' money" and said scrap material is on the land.
Retrospective planning permission for the two pitches in a builders yard, next to where the main camp was set up three years ago, was a revision of an earlier submission for seven and had been refused in March.
A council spokesperson said: "The Gypsies appealed against the refusal and the planning inspectorate is therefore holding a public inquiry, beginning 8 August, to make a determination on the matter."
'Wear down process'
Noah Burton, the head of a Gypsy family, said the group was seeking permission to create the pitches for 12 months while the council help them look for permanent alternatives.
Dave McGrath, one of the organisers of Meriden Residents Against Inappropriate Development (RAID), said Mr Burton was trying to "wear down the planning process".
Mr McGrath said: "It's a waste of taxpayers money.
"It's going to cost the council thousands of pounds and officers' time."
Both Mr Burton and Mr McGrath said they need to raise £20,000 to ensure the Gypsies and RAID are represented at the inquiry.
Council inspectors visited all of the land owned by the Gypsies on Tuesday to check if it had been returned to its original state, and said they were "satisfied that the vast majority of the reinstatement works required by the High Court order have now been undertaken".
Mr Burton said the Gypsies still needed to "reseed some of the land, clear a fire pit and take down a horse shelter".
But Mr McGrath said industrial material has been moved onto the builders yard part of the site since the inspectors visited.
A council spokesperson added: "An enforcement officer will be visiting the site this afternoon to check the position.
"We will be contacting the landowner and his solicitor to insist these materials are removed immediately as they constitute a breach of the High Court order.
"The Council will consider if any further action is then required."