Black Country scrapyard fires 'could be linked'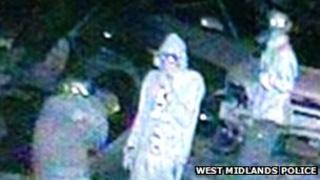 Three suspicious scrapyard fires in the Black Country in the past week could have been started by the same people, police say.
About 50 vehicles were destroyed in the latest fire at A&A Auto Express in Smethwick, on Friday night.
On Tuesday night, 100 vehicles were destroyed in Saltbrook Scrapyard in Cradley and Black Country Car Spares in Wolverhampton was also targeted.
Police have released CCTV images of three men they want to speak to.
The pictures show three men, who were seen running away from Saltbrook Scrapyard as the fire took hold.
Det Sgt Shaun Egan said the damage would cost the three scrapyards "hundreds of thousands of pounds".
He said police were "keeping an open mind" about whether they were linked but said the circumstances of the arson attacks were "very similar".
"Nobody has been injured in any of these attacks but that's only through luck alone - if it happens again, someone could be seriously hurt," said Det Sgt Egan.