Library of Birmingham seeks gardeners for new terraces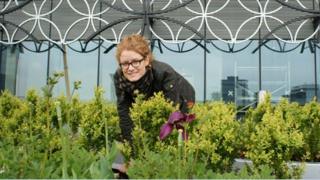 City centre office workers could soon be tending vegetables in their lunch hour at a library.
This incongruous scenario comes from the equally surprising building that is the new £190m Library of Birmingham.
The library's striking design includes three "green areas" - a meadow, a terrace knot garden and a rooftop garden escape.
Ahead of its opening in September, raised beds on the third floor terrace have already been planted and residents and workers are being invited to become volunteer gardeners.
Gardener and tutor Alys Fowler said no previous professional gardening experience was necessary as, for her, the ideal volunteers would be office workers.
She said: "For hundreds of people who work in the city centre, just 20 minutes of dead-heading and basic gardening here could do so much for their stress levels."
Public garden
Involving gardeners in a state-of-the-art library is not an obvious step but Dutch architect Patrick Arends said it had become a key element, despite not being part of the initial brief.
He said: "In Birmingham there are very few buildings with outdoor public space at a high level and here we have two.
"We're hoping people use them like they'd use their garden; to read a book or listen to music. Like the whole library they're a multi-use space."
Linking to the library's photography gallery on the east side and the main library on the south side, it is hoped the terrace will also be a venue for events, expected to be used by the adjoining Rep Theatre among others.
The space feels genuinely unusual. Walking from the black-shelved cocoon of the main library atrium, the terrace opens up onto a Birmingham skyline rarely seen at rooftop level.
'Green-roof revolution'
With fruit trees, herbs and vegetables, the bulk of the planting is soft and informal despite being in contemporary metal containers bordered with tight box hedging.
Taking in the view across the city Alys Fowler was struck with another wave of inspiration, insisting that other buildings in the view should be part of the "green corridor" for urban insects. She passionately called for the start of a "green roof revolution" for Birmingham.
"I hope this is a moment businesses in the city notice they can have a roof garden or terrace. We'd have a different, really exciting city, if this took off," she added.
Looking back towards the library, the lace-like swirls that mark this out as a building of-the-moment feel completely appropriate for the balance of garden and building shapes combining on the terrace.
"This area is lovely, even if you don't want to garden", Ms Fowler said.
The potential is certainly there for the space to provide a relaxing lunch hour, whether as a volunteer tending the plants, or simply as a visitor enjoying a book, the view or a sandwich.
People interested in volunteering should contact Teresa Mulrennan through the Library of Birmingham website.
Participants will be trained through the University of Birmingham's Urban Veg scheme, based at the library and at Winterbourne House and Garden in Edgbaston.
The library is due to open on 3 September.