Wolverhampton Portas contest winner opens rent-free store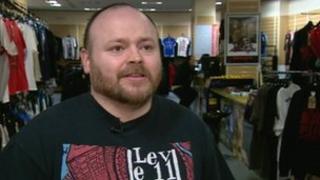 A winner of a competition which offered rent-free shops has opened a store in Wolverhampton.
The contest in the city, part of a government project headed by retail expert Mary Portas, has produced four winners.
Corpse Clothing, an online music, film and TV memorabilia firm, has been given a store rent free for six months in the Mander Shopping Centre as a prize.
Two of the other winners are due to open premises in October.
The Portas Pilot scheme was set up after the retail advisor led a review for the government on regenerating town centres.
'Human touch'
Twelve towns received £100,000 each in the first phase of the project to rejuvenate shopping areas.
A total of £40,000 of the government grant for Wolverhampton was going to the Idea2Reality competition, which had its final round in March.
Lee Savory, who is behind Corpse Clothing, said the contest had "provided an excellent start for us".
He said: "I think having an actual shop provides the human touch that an internet-only company cannot provide while also providing a unique new offer for Wolverhampton."
Fish cookery
His landlords, the shopping centre, were donating the premises rent free and covering most of the running costs.
Another winner, Oscar Campbell's The Fish Store, offering exotic fish products from around the world, is coming to Worcester Street in October. Evening classes in fish preparation and cookery will also be held there.
Richard Brown's Hungry Bistro is due to open on Lichfield Street in October, while Karolina Cumming's Kabanos, a Polish delicatessen, would probably open in The Wulfrun Shopping Centre in the autumn, an Idea2Reality spokesperson said.
Those winners were being helped financially by groups including the Wulfrun Shopping Centre and the city council.
Seven other finalists have been offered grants of £300, together with ongoing business support and a chance for some to display their goods and ideas at a "city centre showcase shop", competition organisers said.
WV One, the non-profit city centre partnership which led the bid for Portas Pilot money, has said the £40,000 from the government grant would be spent on security, utilities and insurance for the winning businesses and supporting the seven other finalists.