Birmingham lawyers hold protest against legal aid cuts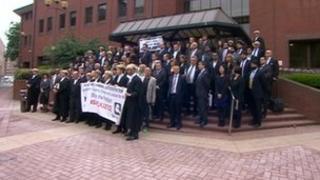 Dozens of solicitors and barristers upset with plans to overhaul legal aid in England and Wales have protested outside Birmingham Crown Court.
Lawyers from the city are worried about the government's proposed £220m cuts to legal aid in criminal cases.
They fear it could lead to the loss of legal firms across the West Midlands.
Proposed changes will end the current system in which anyone accused of a crime can call the solicitor of their choice who can then apply for aid.