Birmingham airport could become 'European hub'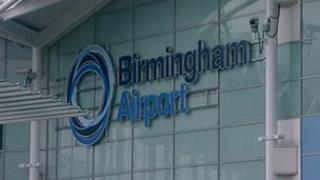 Birmingham Airport has the potential to become a hub serving north-west Europe, a West Midlands MP has said.
The airport will unveil details of a 50-year plan for growth when it submits recommendations to the commission examining UK airport policy next week.
Proposals include another terminal, incorporating HS2, and a second runway.
MP Mark Garnier said the airport could make a "global" statement, but a Solihull councillor said proposals have been drawn up by "economic dinosaurs".
Managers at the airport, where work is being carried out to extend its runway, are due to submit plans to the commission headed by Sir Howard Davies on Monday.
Network of airports
The airport's public affairs director, John Morris, admitted HS2 was an important element of their proposals but said a potential second runway on a nearby landfill site was not yet needed.
Mr Morris said: "At the moment we deal with about 9 million passengers a year.
"You could put another 27 million passengers off [the current] runway which is more than a third runway at Heathrow would give you so it's a good time yet before we'd have to look at [a second runway].
"I wouldn't rule it in. I wouldn't rule it out."
Mr Morris added the UK needs a network of national airports and said using its current runway to maximum capacity could lead to the creation of 243,000 jobs across the region.
Mr Garnier said the airport needed to capitalise on being at the heart of the motorway and potential high-speed rail networks.
'Macho plans'
The Conservative MP for Wyre Forest, who sits on an all-party parliamentary group for the West Midlands economy, said: "The really exciting thing about Birmingham is that we have an opportunity to be able to really make a statement globally for the West Midlands.
"By having a much bigger airport, we're now connecting all those businesses in places like Kidderminster, where I represent, with the global markets of the Far East and Latin America.
"There is potentially the room to expand it into a major airport. Not just a hub for the region but a hub for north-west Europe."
But Solihull councillor Chris Williams, from the Green Party, said London would reap the benefits of any expansion.
Mr Williams said: "Birmingham Airport's proposals are very much macho plans, but I think they've been drawn up by economic dinosaurs.
"[It will] get people flying into Birmingham, going off on HS2, supporting the London economy, doing nothing for us in the West Midlands.
"We're just going to see the concreting over of the countryside between Birmingham, Solihull and Coventry and the lesion of the Meriden Gap through airport expansion and HS2."