Funeral held after Wolverhampton woman, 25, dies of cancer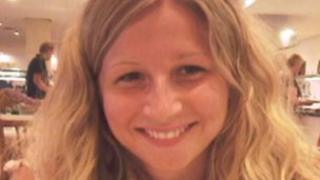 The funeral has taken place of a teacher from Wolverhampton who died from cervical cancer at the age of 25.
Gemma Marsh died in May, within six months of having her first smear test. The funeral was held at Bushbury Crematorium in Wolverhampton.
Her family said it should be made easier for young women to have a smear test.
Evidence showed routine screening under the age of 25 "does more harm than good", the Department of Health said.
The teacher's school, Great Bridge Primary School in Tipton, was closed for the day to allow staff to attend the funeral.
'Tragic case'
The school's website said the loss of the teacher, who died on 27 May, was "devastating to us all".
Miss Marsh's father, Darren, said: "It needs to be made more easy for young women to be able to have the option to go to the doctors and say 'I want that smear test' and not then to be turned round by the doctor [to say] 'well it's down in black and white, it's 25, go away, come back then'.
"If Gemma had had the diagnosis earlier... possibly at the age of 20, if the tumour was there, would it have made a difference? I really don't know."
The Department of Health (DoH) said it was "aware of the devastating effect cervical cancer has" and its thoughts were "with the family of this tragic case".
The Department of Health says screening women under 25 can lead to an increased risk of subsequent premature births, or babies having disabilities.
A DoH spokesperson said: "We have recently debated this issue in Parliament, and it is important to remember the best independent evidence shows that routine screening of women under 25 actually does more harm than good.
"Instead we now vaccinate girls with the HPV vaccine which protects against 70 percent of cervical cancers."
Women with symptoms of cervical cancer, such as unusual bleeding, are advised see a doctor immediately.