Emma Winnall death: Daughter and police renew appeal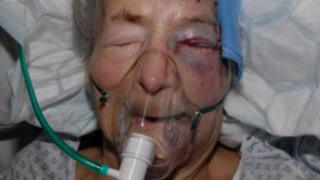 The daughter of a 93-year-old woman who died after being attacked in her bed last year has made a fresh appeal for people to come forward.
Emma Winnall suffered a fractured skull and broken arm during the night time raid at her home on Pensby Close, Moseley, Birmingham, on 1 May.
She died in hospital four weeks later. A police murder inquiry remains active.
Daughter Joyce Blencoe said she wanted "justice" for her mother and said "someone out there knows something".
Ms Blencoe said: "We can get used to someone dying of natural causes but when you've got someone of 93, frail and can't fight back you just can't comprehend it.
"Part of me has accepted it and the other half I just can't believe it actually happened.
"Someone out there knows something. Come forward no matter how small or insignificant you may think it is.
"There's always a possibility whoever did it could do it again and I don't want anyone to go through what we did.
"I want justice for my mum.
"Not for the family that she left behind but for her so at least she can rest in peace knowing there's somebody out there that's been brought to justice."
Two arrests
Det Insp Buck Rogers, from West Midlands Police, said they obtainrf some information from Mrs Winnall before she died.
Mr Rogers said: "We managed to speak to Emma but it's fair to say she was in a confused state. She was quite scared and vulnerable.
"We acted upon the information she was able to give us.
"It would appear at this time there was no forced entry but we're keeping an open mind as to whether or not that's the case.
"We have a number of lines of inquiry that have been ongoing for the last 12 months and we're keeping an open view as to the motive behind this horrendous crime."
Two people have been arrested in connection with the pensioner's death. Both were released without charge.