Stephanie Bottrill remembered in benefits march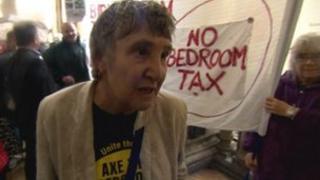 A march has taken place in memory of a woman who left a suicide note in which she said she was worried about government benefit changes.
Stephanie Bottrill, 53, from Solihull in the West Midlands, died in the early hours of 4 May after being hit by a lorry on the M6 near her home.
Her family said she had been worried about changes to her housing benefit.
Birmingham Benefit Justice Campaign organised the march in the city centre to protest against the changes.
One of the organisers, Bridget Parsons, said: "It's throwing thousands of people across the country into despair. People simply can't afford to pay, they're facing eviction.
"We've got people from Manchester, Leeds, Wales and Barnsley so people from around the country are against this tax and we're not going to stop until we get rid of it."
The new rules mean families living in council or housing association accommodation whose property is deemed to be larger than they need have received less housing benefit since April.
The changes were expected to result in £490m savings for the taxpayer in 2013/14.