Birmingham mosque stab PC 'debt of thanks' to worshippers'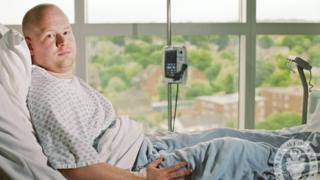 A police officer stabbed at a mosque in Birmingham believes he could have died if it was not for the "great community effort" to confront the attacker.
Four people, including 31-year-old PC Adam Koch, were injured by a man at Washwood Heath Road in Ward End on Saturday night.
A 30-year-old was arrested on suspicion of attempted murder and taken to a secure mental health unit.
Mr Koch suffered multiple knife wounds.
He had surgery on Sunday for wounds to his stomach and side and said he owes a "massive debt of thanks" to worshippers who helped him tackle the man.
Speaking from hospital, Mr Koch said he did not remember being attacked but wrestled the man to the ground and eventually prised the commando-style knife from him.
'Adrenaline took over'
"I managed to grab hold of his wrist and eventually disarm him. It was only then that my partner told me I'd been stabbed and blood was running from my shirt," he said.
"I didn't feel anything at the time - the adrenaline took over and my focus was purely on stopping this man causing any more damage.
"I'm waiting to see the damage to my stab vest as I'm convinced it's helped save my life."
Mr Koch, from Yardley Wood, and his police partner Jean Stevens arrived on the scene four minutes after police received reports of a man attacking mosque members at about 23:00 BST on Saturday.
It is understood he was not known to the prayer centre but turned up to join the congregation for evening prayers, police said.
The incident began during the final prayer session of the evening. Witnesses described hearing an argument between some of the people inside the mosque.
A 28-year-old man suffered multiple stab wounds and a 36-year-old man sustained a single stab wound to his leg. They also remain in hospital.
Another victim has been recovering at home after injuring his hand.
Ch Supt Alex Murray said the man arrested was of Somalian descent and that a "sizeable knife" had been used in the attack.
The suspect was found in a room in the mosque but when challenged he ran at one of the two police officers who arrived at the scene.
Mr Koch said he intended to visit the mosque and ask the imam to pass on his gratitude to the worshippers who helped him.
"I owe those people a massive debt of thanks and help - if it wasn't for their help, bravely running towards a man they'd already seen brandishing a large knife, I may not be here today," he said.
"In the end it was a great community effort to overpower the man and arrest him."
A doctor who was praying with worshippers at the time, Dr Arshad Mehmood, said: "Nobody knew what exactly led to this incident.
"It was so sudden and so shocking because a mosque is meant to be the place where you get the peace and you get harmony and brotherhood."
Somalian community leader Mohamed Sharif said: "We're very sorry on behalf of what happened, but we are not violent and we're not historically having problems in terms of interacting with [the] community."
Mr Koch said on Twitter that his condition was improving.
He was hopeful of leaving hospital on Monday night and returning to work in a few weeks' time.
Mr Koch is due to attend a police awards ceremony on Thursday to be honoured for helping to rescue a critically ill child from a gas-filled flat.