Trevor Francis's son 'burgled Lee Hendrie's cottage'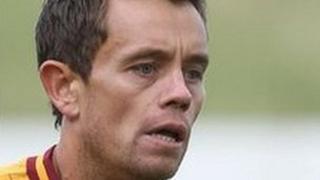 Thumb-prints matching ex-football star Trevor Francis's son were found at the scene of a burglary at a footballer's home, a court has heard.
James Francis, 26, was alleged to have stolen designer goods from former England and Aston Villa player Lee Hendrie's home in the summer of 2011.
Mr Francis, of Solihull, was accused of stealing items including golf clubs, souvenir football shirts and a watch.
He denies burgling a cottage in Rowington, Warwickshire.
Prosecutor Trevor Meegan claimed two thumb-prints matching Mr Francis were found on a door panel and one of four pieces of torn cardboard.
'Substantial' property
Mr Meegan told Warwickshire Justice Centre the burglary of the unoccupied cottage happened while Mr Hendrie and his wife, Emma, were on holiday in Majorca.
The prosecutor also said Mr Hendrie was renting the main part of the "substantial" property, called Finwood Lawn, to another footballer in the period before the alleged break-in.
But the tenant and his family did not have access to the locked cottage, which was being used as a storage area by the Hendries.
Mr Francis was accused of stealing six souvenir football shirts, a set of golf clubs, sunglasses, a watch, and a Vertu mobile phone from the one-bedroom cottage.
Mr Hendrie, whose former clubs include Sheffield United, Leicester and Blackpool, bought Finwood Lawn for £1.6m in 2007.
'Very shocked'
The jury heard Mr Hendrie's father, Paul, was a team-mate of Trevor Francis at Birmingham City in the 1970s, and Lee Hendrie, 36, said he was friends with James Francis.
Under cross-examination, Lee Hendrie accepted the two families had been "essentially intertwined" in their social lives over a number of years.
Asked how he felt after learning that evidence had linked James Francis to the break-in, Mr Hendrie said: "I was disappointed - these are people that I know well and I was very shocked."
Mr Hendrie was asked about three receipts on Harvey Nichols notepaper which were submitted to an insurance firm after the burglary.
Responding to a claim that the receipts had been "back-dated" by someone, Mr Hendrie replied: "I don't go through my receipts with a fine-tooth comb.
"A receipt is a receipt."
'Just assumed'
Mr Hendrie, who was made bankrupt in December 2012 owing almost £250,000, was asked whether he was "quite sure" all the items reported stolen were being stored in the cottage.
He said: "A lot of stuff was in there.
"A lot of my own personal stuff was in there - it was in our home property."
The former footballer was asked why he had stored irreplaceable items in a cottage which was only insured for personal belongings up to £2,000.
Mr Hendrie said: "We just assumed that the whole house was insured."
Trevor Francis, who watched the proceedings from the public gallery, has 50 England caps.
James Francis denies burgling Mr Hendrie's home on a date between 18 July and 3 August 2011.
The trial continues.