Mohammed Saleem murder: 'We don't feel safe', says family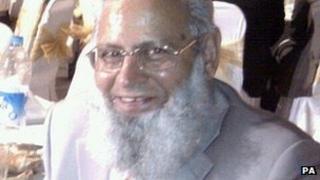 One of the daughters of an 82-year-old grandfather murdered in Birmingham says his family do not feel safe.
Father-of-seven Mohammed Saleem was stabbed on his way home from Green Lane Mosque in Small Heath on 29 April.
People living close to where he was murdered are calling for a greater police presence to ease community fears amid concerns the attack was racially-motivated.
Maz Saleem said: "There's a killer at large and we don't feel safe."
She added: "No-one should be able to feel like this, especially where they've been born and bred and they've grown up."
West Midlands police have said there is no evidence Mr Saleem was the victim of a racist attack.
In a statement, Ch Insp Dean Hatton from West Midlands Police, said in addition to working with youth clubs and neighbourhood watch schemes, patrols had been stepped up.
He said officers were patrolling on foot and in vehicles "to maximise our visible presence so that local people do feel safe at all times".
"We will continue to work hard to achieve this."
'Very vulnerable'
CCTV footage from the time of the murder shows a white man, thought to be between 25 and 32 years old, running in Wyndcliffe Road wearing a beanie-style hat.
An appeal to find his killer was featured on the BBC's Crimewatch last month prompting new leads, police said.
Asmah Iftikar, who lives on Wyndcliffe Road, said: "We walk down the road but we're always looking over our shoulders now.
"I'd like to see more security cameras around here. One that can clearly see."
Qari Hussain, who lives in the same road, said: "The elder community are feeling very scared, feeling vulnerable at the moment.
"The mosque is just round the corner and a lot of our community pray there, but on the way back now they want company. We just need a greater police presence here so people feel safe."
£10,000 reward
Pervez Akhtar, who runs a business on Green Lane, said: "People hesitate to come out. That's why I just start closing eight o'clock. Soon as it gets dark, most of the community want to stay indoors.
"I do see a lot of police in the daytime but at night I don't see them and that's when we need them."
Green Lane Mosque, where Mr Saleem prayed five times a day, said it was offering counselling.
Waseem Khan, from the mosque, said: "A lot of people have shared their sentiments and feelings about how upset they are.
"This just cuts across the whole community, whether a person was a Muslim or a non-Muslim."
A £10,000 reward for information in connection with Mr Saleem's death has been offered.