Birmingham Airport runway skid plane was going too fast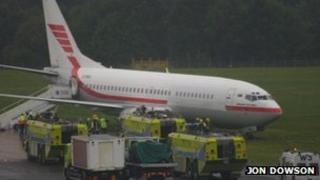 A plane skidded off the runway at Birmingham Airport as it was being taxied at twice the speed it should have been, an accident report found.
The Monarch-charted flight ZB467, from Nice in France, skidded off the runway on 21 September.
An Air Accident Investigations Branch report found the plane was travelling at 20 knots as it was being taxied, 10 knots above the recommended speed.
Monarch said it would review the report before deciding what action to take.
It is no longer using Lithuanian firm Auerla Airlines, which operated the Boeing 737.
It was the same aircraft that left 150 Monarch passengers stranded in Tenerife in August 2012 after a door broke.
During the September incident, flights were suspended for two hours from the airport while the aircraft was removed from a grass verge. None of the 137 passengers or six crew members onboard were hurt.
Accident investigators said the aircraft commander had speeded up to prevent another aircraft behind from waiting before landing.
The aircraft's nose wheels and some tyres were damaged in the incident.