Birmingham pub bombings: Victim's brother in police HQ protest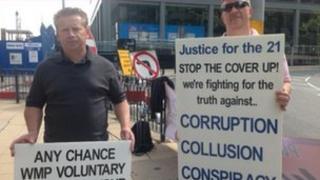 The brother of a woman killed in the Birmingham pub bombings has staged a protest outside West Midlands Police headquarters.
Brian Hambleton, 58, said it was his frustration over the force finding documents relating to the Hillsborough investigation that led to his action.
His sister Maxine, 18, was one of 21 people killed when bombs exploded in the Tavern in the Town and The Mulberry Bush on 21 November 1974.
Police are "assessing" options.
He said he had been watching the news on Tuesday evening when he saw reports about the police finding a room full of evidence relating to the Hillsborough inquiry. West Midlands Police investigated South Yorkshire officers' conduct after the 1989 deaths.
'The truth'
He said although he did not want to jump on the back of other people's sorrow, he felt frustrated that he and other families were still waiting for answers about what happened in November 1974.
"All I want is the truth," he said. "It's been long enough now."
He added he had not spoken to police himself as "I don't believe anything they say".
Mr Hambleton dropped his sister off in the city on the night of the bombings and said he often wondered whether if she had made her way by public transport instead that night, she might still be alive.
Birmingham Six
Last month, his sister Julie Hambleton met Northern Ireland's First Minister, Peter Robinson, in a bid to secure a public inquiry to find out who caused the blasts.
Paddy Hill, Gerry Hunter, Johnny Walker, Hugh Callaghan, Richard McIlkenny and Billy Power, known as the Birmingham Six, were jailed for life for the bombings in August 1975.
The Court of Appeal ruled in 1991 their convictions were unsafe because they were based on unreliable forensic evidence and "confessions" obtained using violence.
No-one else has ever been charged over the murders.
Earlier this week West Midlands Police said "two items of material" relating to Hillsborough had been uncovered, including witness statements,
The paperwork is now at the Independent Police Complaints Commission, although the force claimed it had no reason to believe the documents had not been given to previous inquiries.
In September, an independent report into Hillsborough said that at the time of the initial investigation West Midlands Police knew South Yorkshire officers had altered statements but accepted the actions of their fellow officers.
'Forensic expert'
A West Midlands Police spokesman said the force's counter terrorism unit was not reviewing previous inquiries relating to the bombings.
"However, we are assessing what future opportunities we might have to resolve the case," he said.
He added police have had several meetings with the Hambleton family to explain what work is being undertaken.
He said police have given a commitment to consult a forensic expert as to what new developments may be applicable to exhibits, and to ensure that all documents and exhibits relating to the case are preserved and catalogued to current day standards.
"This will make them more easily accessible in the future should new lines of enquiry be identified," he said.
"A dedicated team of detectives has been assigned to the task. However, owing to the vast number of historical files that exist - we have identified several thousand so far - the work is likely to take some time to complete."