Smethwick blaze: Suppliers asked to stop lanterns sale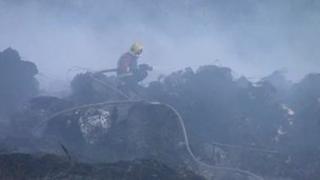 Chinese lanterns suppliers have been urged to stop selling them after one caused a blaze at a recycling plant.
A team of firefighters is still at the scene of the fire, involving 100,000 tonnes of plastic, at the Jayplas depot in Smethwick, West Midlands.
The government has rejected a ban, but Sandwell Council wants retailers to voluntarily stop selling the lanterns.
Leader, Councillor Darren Cooper, has backed a ban after MP for Warley, John Spellar, voiced concerns on Tuesday.
Mr Cooper, the head of the labour-run authority, said: "They may look very pretty when in the air, but this massive fire has shown just what damage they can cause.
"We will also be asking our trading standards officers to check local suppliers and sellers of Chinese lanterns asking them to withdraw them from sale."
'Molten plastic'
A Devon superstore has already withdrawn the lanterns from sale in response to the fire.
A spokeswoman for Chaplins, which has stores in Plymouth and Taunton, hoped other retailers would follow suit.
The government previously said the number of fires caused by lanterns was "very small" and there "needed to be a proportionate response".
West Midlands Fire Service said it was working with the company whose diggers were helping create channels into the "molten, crust-covered plastic" for firefighters to dampen down.
A spokesperson for the service said: "We expect to remain there at least for the rest of the day.
"A decision will be made in due course as to when it will be safe and appropriate to leave the scene and make regular revisits rather than maintain a continual presence."
At its height, more than 200 firefighters attended the blaze, which began at about 23:00 BST on Sunday and caused an estimated £6m worth of damage.
Twelve firefighters were treated for injuries, three of whom were taken to hospital as a precautionary measure.
The blaze, which covered an area of about 90,000 sqm, was described by the fire service as one of the biggest it had dealt with in the West Midlands.
It said it was the 15th fire at a waste recycling site it had dealt with in the past year.
West Midlands Police said roads around the fire had reopened although part of Brasshouse Lane remained blocked.
Pupils were back at Galton Valley Primary School after two days of closure.