Dudley Zoo name snow leopard cub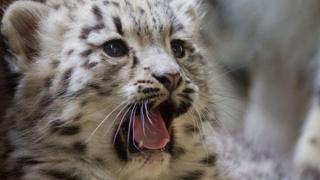 Staff at Dudley Zoo have officially named their newest arrival.
Nidara, which means "fearless" in Hindi, is the first snow leopard to be born at the zoo in 12 years.
Until this week, the two-month-old female was known simply as Cub X, as zoo keepers were unsure of her sex.
Demand to see Nidara is so large that extra staff are being drafted this weekend to cope with visitor numbers. Dudley Zoo's Jill Hitchman said: "She has already become quite a star."