Poundland withdraws Chinese lanterns from sale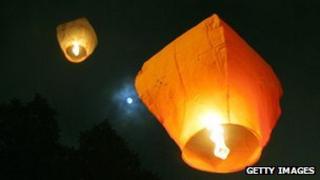 Poundland will stop selling Chinese lanterns after one, not sold by the company, sparked a huge fire.
More than 200 firefighters attended a blaze involving 100,000 tonnes of plastic in Smethwick in the West Midlands on Sunday.
"We have made a decision to stop selling lanterns and recalled all remaining stock from stores," a Poundland spokesperson said.
The government has refused to ban the lanterns nationwide.
'Follow suit' call
A spokesperson said they caused a "very small" number of fires.
Vij Randeniya, chief fire officer for the West Midlands, said Poundland's decision would make "a direct contribution to public safety" and called on other responsible retailers to "follow suit as soon as possible".
"We asked for a sensible conversation about sky lanterns with sensible people, and we are really pleased that Poundland have stepped up to the plate," he said.
Poundland, based in Willenhall, near Wolverhampton, has more than 450 stores across the UK.
After the fire, the local authority Sandwell Council and John Spellar MP, whose Warley constituency the blaze was in, called for retailers to stop selling the lanterns.
But a Downing Street spokesman said there "needed to be a proportionate response".