Birmingham 'needs 80,000 new homes', says city council leader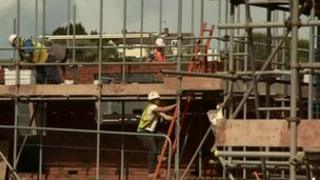 More than 80,000 new homes need to be built in the West Midlands to deal with a housing shortage, the leader of Birmingham City Council has said.
Sir Albert Bore said the city had land for 50,000 houses but the rest would have to be built in surrounding areas.
The Conservative group said it was worried that building on greenbelt land could be forced through by the council.
National figures show that 79,000 people are on waiting lists for social housing in the West Midlands.
The Birmingham development plan for housing and industrial growth will be published for consultation in October.
Sir Albert Bore's proposals for housing were outlined in his annual leader's policy statement to the council.
He said the Office for National Statistics (ONS) predicts that Birmingham's population will increase by 150,000 by 2031.
"Our population is growing and we are discussing with adjoining local authorities how we can best jointly meet that housing demand," he said.
"The number of houses will have to be built at a rate we haven't seen since the Second World War."
He said that about 10,000 houses would also have to be built on greenbelt land.
'Willing to co-operate'
Robert Alden, deputy leader of the Conservative group said they were concerned that the council's estimate for how many houses were needed had "gone up by 10,000 in just 12 months."
"There's a strong feeling that residents living by the greenbelt will be strong-armed into accepting developments," he said.
"Instead of building big housing estates outside Birmingham, the council should be looking at putting up town houses around the city centre to encourage more families to live there."
The leader of Walsall council, Mike Bird, said that authorities in the Black Country were "willing to co-operate" with Birmingham City Council to get homes built outside of the city boundaries.
"It's something all the local leaders have discussed, we have plenty of brownfield sites," he said.
"Many people live in the Black Country and work in Birmingham so it makes sense."