Midland Metro tram service disrupted for fourth day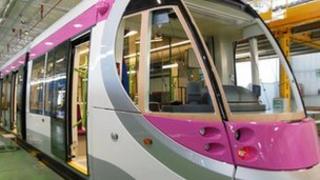 Midland Metro passengers experienced delays for the fourth day running due to overhead line problems.
The stretch between Birmingham Snow Hill and Soho Benson Road was closed earlier.
Tickets and passes were being accepted by National Express buses and London Midland trains, Midland Metro said.
Services returned between Wolverhampton and Soho Benson Road before fully reopening about 15:00 BST. A spokesman apologised to customers.
The closure was due to the removal of engineering vehicles from the line.
Dean Watkins, Midland Metro manager, said: "We are sorry for any inconvenience caused to customers during the disruption.
"We have worked hard to limit the time our customers were without the service and are glad to be back up and running the full length of the line."
Twenty new trams are being built for the Midland Metro at a cost of £40m and will enter service in 2014.