West Bromwich New Square promises 2,000 jobs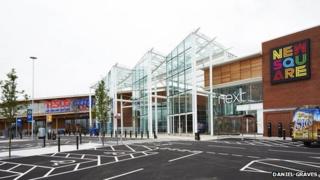 A new £140m shopping centre in the West Midlands is expected to employ about 2,000 people by the end of the year, Sandwell Council has said.
The first phase of New Square, in West Bromwich, includes a Tesco store as well as a cinema and restaurants.
The head of the town's market traders association is concerned the complex will impact on nearby retailers.
But the leader of the Labour-run council, Darren Cooper, said £8m would be invested in other parts of the town.
'Footfall decline'
Mr Cooper said the money would be spent on the nearby Queen's Square and King's Square shopping centres "to make the units there a bit more modern".
Brett Packer, the head West Bromwich Market Traders Association, welcomed the 2,000 jobs at New Square but is concerned they may affect a town centre that has already seen a decline in footfall.
Mr Packer said: "There are people working in retail outlets in the old part of West Brom that are worried they're going to lose their jobs because all the money is going to go to Tesco.
"People have only got so much money to spend.
"What I'd rather see is jobs in manufacturing that puts real money into real people's pockets and the people have spending power.
"The major reason why the footfall has dropped in West Bromwich is the closure of Rover and all the small component factories."
Tesco spokesman Matt Magee said he was aware the older parts of the town were to undergo a facelift.
Mr Magee said: "New Square will be a catalyst for further development as we see more people coming into West Brom from further afield."
Other shops that will operate from New Square include Next, Sports Direct, Deichmann, Greggs and Pound World, with Primark due to open in September.
It is understood that nearly all the 44 retail units in the development have been filled.