Harborne roads reopen after pub fire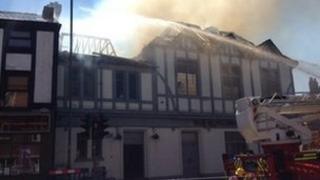 Staff at a Lord of the Rings-themed pub which was hit by a huge fire "will be back in six months", they vowed.
More than half of the Huntsman's building, located on Harborne High Street, Birmingham, was damaged in Tuesday's fire.
The blaze came less than a month after the pub underwent a £40,000 themed movie makeover.
Roads have now reopened and bus routes are back in operation around Harborne High Street.
Speaking to the BBC, Chris Byrne, pub manager, said : "We will be back. It won't be immediately, but we will be back soon.
"At the moment of course we are all completely devastated. It's all been such a shock. We had only been open for three weeks.
"There's been as estimated 60% damage. Most of this is water damage.
"We are in the process of cleaning up and speaking to insurers, but we are definitely planning on opening our doors again in six months."
The Huntsman, formerly known as the Kings Arms, opened at the end of May.
Harborne Park Road was closed on Tuesday between Vivian Road and the High Street due to the fire.
The High Street, where the pub is located, fully reopened on Wednesday, along with Harborne Park Road.
Fire crews were called to the blaze on Tuesday afternoon.
Steve Husband, of West Midlands Fire Service, said it appeared that the "hot gear" being used by workmen on a nearby roof caused sparks that lit the timbers below.
Nobody was hurt in the fire.