Mohammed Saleem murder: Delayed funeral takes place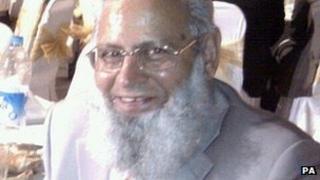 The funeral of a grandfather who was stabbed in the back three times on his way home from his local mosque has taken place.
Mohammed Saleem, 75, was attacked in Green Lane, Small Heath, Birmingham after prayers in April.
The funeral was delayed as two post-mortem examinations were carried out. So far no-one has been charged with Mr Saleem's death.
His daughter, Fazia, said: "We are desperate for the killer to be found."
Ms Saleem, 43, said: "They have taken away a father, a grandfather, and a husband - my mum is absolutely devastated and in pieces."
The delay between Mr Saleem's death and his funeral has also caused the family extra concern because they had not been able to bury him straight away, as Islam sets out.
'In limbo'
"It's just been really stressful because we've been in limbo and not been able to accept it because we haven't been able to see our dad, or bury our dad," said Ms Saleem.
"It's going to be very hard.
"Obviously the anger's going to set in that he's been taken away and we don't know who had the nerve to do such a thing - and they haven't been caught yet either."
At the time of Mr Saleem's death, West Midlands Police were exploring the possibility he might have been the victim of a racist attack, but later said the motive was unclear.
The force issued a CCTV image of a man seen running near the scene of the attack during Mr Saleem's journey, one he made five times a day for more than 20 years.
His family is still searching for any information that might lead detectives towards finding his killer.
Mr Saleem's funeral took place at the Green Lane Mosque in Birmingham.