Tipton mosque blast: Controlled explosion on 'device' found in garden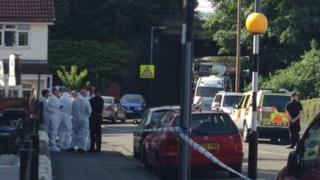 A controlled explosion has been carried out on what police said was part of a device that exploded outside a mosque.
The blast happened on a disused railway line near Binfield Street in Tipton in the West Midlands on Friday.
West Midlands Police said specialist army bomb disposal officers carried out a controlled explosion at 17:15 BST on the item found in the back garden of a nearby building.
The attack on Friday has been described as an "act of terrorism".
Nails and debris were found strewn outside the mosque, which is the central place of worship for Tipton's long-established Muslim community.
No-one was hurt and the mosque is expected to be closed until at least Sunday evening, police said.
A counter terrorism investigation is under way and forensic scientists and officers from British Transport Police have been combing the area.
People whose homes were evacuated on Friday have been allowed back into them, police said.
Mosque 'probable target'
Assistant Chief Constable Marcus Beale confirmed speculation that the Kanzul Iman Central Jamia Mosque was the target as the "most probable explanation" for the attack.
He said the local community had shown "solidarity, strength and cohesion" in the wake of the blast.
On Saturday, West Midlands Police tweeted: "[The] following roads in Tipton remain closed: Binfield Street, Mayfield Gardens, Victoria Road and Peel Street (partially). Inquiries continue."
Ramadan 'spiritual disruption'
Community leaders have appealed for calm and said it was "business as usual" in the area.
Imam Hafiz Ghulam Rasool said: "It's caused massive spiritual disruption especially in the month of Ramadan.
"We see this as a criminal act rather than an act of terrorism, until it's proven to be one.
"We've asked for calm and unity from people but this is a very strong, well integrated community."
Faith and Communities Minister Baroness Warsi condemned the attack, saying: "I have spoken to representatives of the mosque and local community and have assured them that the government will not tolerate terrorist attacks, hatred or the desecration of religious places.
"All British people have the right to live free from fear and to worship in peace. Attacks singling out one community are an attack against us all."
Assistant Chief Constable Beale said there was "no evidence" to make any connection between the attack and the funeral of murdered Fusilier Lee Rigby, which had taken place that morning in London.
The explosion has pushed Tipton's long-established muslim community back into the headlines after three men from the town were captured in Afghanistan in 2002 and taken to Guantanamo Bay.
Ruhal Ahmed, Asif Iqbal, both 22 at the time, and 26-year-old Shafiq Rasul were dubbed the "Tipton Three" and held at the US camp in Cuba for two years.
They were eventually returned to the UK in March 2004 where they were released without charge.
Police have appealed for witnesses who may be able to offer information about the blast.