Tipton explosion: Mosque reopens to worshippers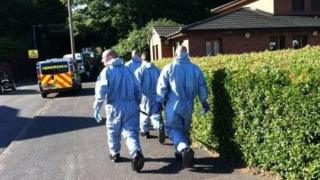 A mosque near the site of an explosion police have called "an act of terrorism" has reopened.
The blast happened on a disused railway line near Binfield Street in Tipton, West Midlands, on Friday afternoon.
Nails and debris were found strewn outside the mosque, which is the central place of worship for the town's long-established Muslim community.
Home secretary Theresa May condemned the "cowardly act", adding the "country will not be divided by terrorism".
Speaking in the House of Commons, Ms May said: "Last Friday we witnessed an attempted act of terror designed to divide our community.
"The motivations behind the explosion outside a mosque in Tipton as people gathered for Friday afternoon prayers are not yet known.
"But the intention was clear and the potential for injury and loss of life is obvious.
"This country will not be divided by terrorism.
"We stand united as a government, as a parliament and as a nation in our opposition to these cowardly acts."
Controlled explosion
West Midlands Police said a doctors' surgery and a church have also reopened following the explosion.
A police spokesperson said fingertip searches in Binfield Street in the immediate vicinity of the Kanzul Iman Masjid mosque had been completed, but its car park remains closed.
Assistant Chief Constable Marcus Beale said: "This is a massive investigation being led by our Counter Terrorism Unit with many officers and experts all working to find the offender or offenders."
He said forensic teams would continue their detailed searches in and around the area, and CCTV footage is being studied.
A controlled explosion was carried out on Saturday on what police said was part of a device that exploded.
The town was in the news in 2002 when three local men were captured in Afghanistan and taken to Guantanamo Bay, although police said they did not worship at the mosque.
Ruhal Ahmed, Asif Iqbal, both 22 at the time, and 26-year-old Shafiq Rasul were dubbed the "Tipton three" and held at the US camp in Cuba for two years.
The trio were eventually returned to the UK in March 2004 where they were released without charge.
Mr Beale said there was "no evidence" to make any connection between the attack and the funeral of murdered Fusilier Lee Rigby, which took place in Bury on Friday morning.
Police have appealed for witnesses who may be able to offer information about the blast.