Yardley stabbing: More time to quiz teen suspects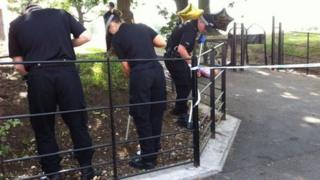 Police have been given more time to question two teenagers arrested on suspicion of murder after a 15-year-old boy was stabbed to death in a fight.
The clash between two groups of young people happened in a park in Wash Lane, South Yardley, Birmingham on Monday.
Hassan Mahmood was taken to hospital but died a short time later.
Four teenagers were arrested after the attack and two later released without charge. Two 16-year-old boys remain in custody, West Midlands Police said.
Hassan's cousin Asad Hamid said "he died because he was sticking up for his older brother".
Mr Hamid said: "I don't know how they [the family] are going to carry on living their normal lives.
"The mother actually fainted a couple of times. It's heartbreaking her losing a son."
Hassan had been a pupil at the Rightrack independent school in Saltley for six weeks. His headteacher Sohail Aslam said he had settled in quickly and been well-liked.
Police said they were looking at CCTV footage which may have captured the fight and were appealing for anyone who was in the area at the time to contact them.
A post-mortem examination was due to take place on Wednesday.