Commuters face St Chad's and Queensway tunnel closure test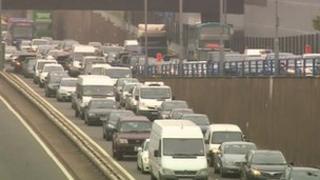 Motorists were caught in congestion on the first full working day after Birmingham's A38 tunnels were closed for six weeks of repairs.
The St Chad's and Queensway tunnels shut on Friday night.
The council said it chose to close them now as traffic was usually up to 20% lighter in the school summer holidays.
Inrix, which monitors traffic levels, said the morning and afternoon rush hours resembled "a fairly average day on days when the schools aren't off".
Steve Mason, from Inrix, added: "Obviously we fully understand it will cause disruption.
"It was busy for a short time between about 4.30 and 5.30 [pm], slightly busier than a normal rush hour, but things are looking much better."
'Virtually no trade'
Earlier, a points problem at Aston meant there were no trains between Birmingham New Street and Walsall.
There were reports of queuing traffic on the A38 Aston Expressway coming into the city, the A38 Aston Road between Dartmouth Circus and Lancaster Circus and at St Chad's Queensway.
Queues also built up on Paradise Circus, the Hagley Road and Harborne Road.
One commuter, Richard Williams, tweeted that it had taken him three hours to get in to work "and I live in Hall Green".
Pritash Patney, who runs a garage on Bristol Street said he had lost a considerable amount of trade.
"We've lost about 75% of our trade and this is going to carry on for six weeks and from what I understand, another six weeks next year.
"How do you cope with this if you're losing that much time with virtually no trade at all?"
During the evening Richard Williams tweeted: "Tunnel closures have added on six hours to my journey today."
But on Holliday Street during the afternoon, cyclist Paul Hyatt, 32, from Dudley, said: "To be honest, I don't usually cycle. I came by bike today because I was expecting delays, but there's been none that I've seen. Everyone seems to be coping well."
Motorist Gavin Tranter, 48, from Edgbaston, said on Broad Street during the afternoon rush hour: "I've been nipping to and from work all day along Broad Street, and there haven't been any problems. A five-minute delay here or there, but nothing out of the ordinary. Just normal delays, really."
Public transport
Chris Perry, the head of operations at West Midlands transport authority Centro, said the day had "gone really well".
He added: "We've noticed a few extra people using the trains which is fantastic and anecdotally there seem to be a few extra people on the buses as well.
"It is about using the bus, the train or the Metro or walking and cycling if you can do that so the highways can be kept clear for those people that really do need to use them."
Birmingham's Chamber of Commerce president has previously warned the closure of the tunnels would cause "chaos".
Steve Brittan said he would "boycott" the city centre while the work was being carried out and urged other drivers to do the same to alleviate congestion problems.
Along with road diversions, extra measures have been put in place by National Express and Centro to encourage drivers not to come into the city centre.
A 500-space park-and-ride site has been set up at Birmingham City University's Perry Barr campus, extra buses are being put on and three "bike trains" are being set up to allow people to cycle in large groups into the city.
Student Pupul Chatterjee said earlier the park-and-ride site had so far been quiet.
She said it seemed like many people did not know about it.
Birmingham City University student Kim Bui, who was at Walsall's Bescot Stadium railway station during rush hour in the morning, said it was "very quiet".
Speaking at the city's traffic control room, traffic engineer Ian Robinson, said: "We've been using our extensive CCTV network to monitor traffic at the key junctions [and] where appropriate add some 'green time' on to the most congested sections of the network to help cars, buses and taxis move more freely."
Several passengers travelling from the park-and-ride site to the city centre were upset the buses were not stopping in Aston.
'Dreading rush hour'
Motorist Rob Knowles, who usually drives into the city along the M6 and A38 from Bedworth, Warwickshire, said he left home about 30 minutes earlier than usual and used the M42 and A45 instead.
He said the traffic level was "not much worse than normal rush hour".
"I left at 07:30 and it took 55 minutes, and it normally takes me 45 [minutes] to an hour," he told BBC News.
The tunnels, which are 40 years old, will be shut until 2 September.
As part of the repairs, nearly 1,000 new lights will be installed and fire protection added to the walls and ceilings.
Amey, which maintains the city's roads and highways, said about 75,000 vehicles travelled through the tunnels each day.
Spokesman Eddie Fellows added there was a main compound on Curzon Street where materials were kept before being taken to the tunnels area in a convoy.
The council and Amey have set up a website giving details of the closures.
However, Edgbaston councillor Deirdre Alden said on Friday she found out part of Broad Street would also be shut while the work was carried out via a question in a committee meeting.
Ms Alden, a Conservative councillor, said the inbound part of the road between Paradise Circus and the Hyatt Hotel would be shut to cars over the six weeks, although buses and taxis would still be allowed through.
She said: "I can understand them not wanting Paradise Circus to take any extra traffic, but this is going to make things worse."
A spokeswoman for the city council said the congestion was where it had been predicted and there had been "no major issues".
"The main congestion was right in the city centre by the tunnels... but there was capacity on the middle ring road which is what we've been advising people to use.
"Our message remains the same - stay off the network if you can."