Mailbox stores start to move out to make way for £50m revamp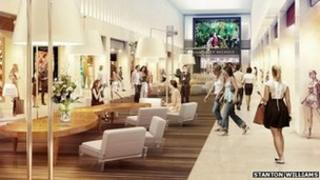 A number of traders in Birmingham's Mailbox have begun moving out of the building ahead of a £50m refurbishment.
Their departure marks the start of a two-year-long revamp, which begins in August. Work includes plans for a 45,000 sq ft Harvey Nichols store.
Restaurants and bars will remain open while the building work is carried out, as will the unaffected shops.
The complex has about 50 independent stores, with fewer than half temporarily relocating.
Many smaller traders are planning a return to the site once the work is completed.
Some stores, such as Daniel Footwear, are temporarily relocating but are unsure of their long-term plans.
Store manager, Rob Clive, said: "We received word that we had to be out by this Saturday.
"We will move to the Great Western Arcade, which isn't too far away from where we are now.
"It is up to head office to decide if we come back to the Mailbox, but a lot can happen in two years; who knows if we will be returning here or not?"
A spokesman at clothing retailer Gieves and Hawkes said: "We will be closing soon, too.
"The majority of work will be taking place outside our doors, so it would not be practical to stay open for the duration of the regeneration."
Larger stores such as Nicky Clarke will remain open, along with Harvey Nichols, Emporio Armani and Tony and Guy Essensuals.
Ruth Pipkin, Mailbox press officer, said: "Each of the bars, restaurants, hotels, offices, the BBC and the car park will remain open for business as usual."
Brocton Capital, who bought the shopping and office complex for £127.1m in 2011, said 500 jobs would be created when the building work finishes in 2015.
As well as more shops and more open space, they said the installation of a roof on the building would "dramatically change its environment and sense of space."