Dudley Hippodrome demolition plan protest held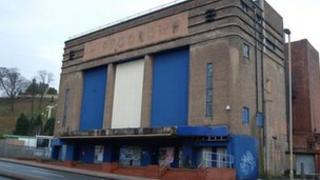 About 30 people have protested over plans to demolish a theatre, a campaign group said.
Dudley Hippodrome in the West Midlands will be demolished as part of £10m regeneration plans, the borough council has announced.
It said an independent study had revealed reopening the theatre would require an investment of £5m to 10m.
The Friends of Dudley Hippodrome group said it gave out leaflets at a protest in the town's market place earlier.
Geoff Fitzpatrick, 71, from the group, said it also added to more than 25,000 signatures which had already been gathered for a petition against the plans.
'Positive feedback'
He said the group might hand the petition in when Dudley Metropolitan Borough Council's development committee meets on 5 August.
Speaking after the protest at 11:00 BST, Mr Fitzpatrick said: "I felt it [the protest] went very, very well because we had positive feedback from people we were talking to.
"It's a historical building and it's been a landmark for people."
Dudley Hippodrome was built in 1938 and used as a theatre until 1964, when it became a bingo hall.
The building has been empty since 2009.
Dudley council has said a plan put forward by campaigners to turn the building into a community theatre was "not financially viable" and it had submitted a planning application to knock it down.
Council leader David Sparks has said: "An independent study has told us it [reopening the theatre] would require an investment of £5-10m.
"Even then the building would require a significant subsidy, which, in the current climate, I think most people will appreciate is something we cannot commit to."
The council had said it was in talks with nearby Dudley Zoo to build an education centre on the theatre site in Castle Hill.