Birmingham coffins works restoration project begins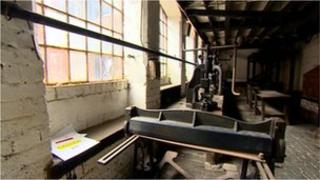 Work has started on a £2m project to turn a Victorian coffin factory in Birmingham into a heritage centre.
The contents of Newman Brothers Coffin Works in the Jewellery Quarter were still in place when it closed in 1999.
Simon Buteux, director of Birmingham Conservation Trust, said this would help the restoration team.
"It was as if the staff had locked up the door and gone away as if at the end of an ordinary working day and then not come back," he said.
Churchill funeral
The project has had grant support from Birmingham City Council, the Heritage Lottery Fund and English Heritage.
Contractors will restore the original fabric of the 1894 building, Mr Buteux said, including the iron-framed windows and the roof.
Once this is complete the original fittings will be brought out of storage in Erdington and reinstalled in the works.
The factory, in Fleet Street, made fittings for the coffins of Sir Winston Churchill, Joseph Chamberlain and Diana, Princess of Wales.
The contractors are due to finish their work by May and the building should open to the public in the summer, Mr Buteux said.