Birmingham escaped porcupine recaptured after dog hurt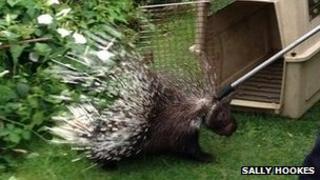 An escaped porcupine has been recaptured after injuring a dog in Birmingham.
The spiky pet, an African porcupine, had been missing from its Kings Heath home for two days.
A man and his bull terrier found the spiky rodent in woodland off Broad Lane in Kings Heath at the weekend.
The dog received RSPCA treatment for minor puncture wounds, before both animals were given a clean bill of health and returned to their owners.
Local resident Sally Hookes' tweets about the porcupine's rescue by the RSPCA on Saturday helped to track down its owner.
It is understood the porcupine owner, who runs an exotic animal education business from her Kings Heath home, had reported the animal missing to the RSPCA on Saturday morning and put up 'lost porcupine' posters.
Meanwhile, the unsuspecting dog uncovered the animal and Ms Hookes, who lives near the woodland, called the RSPCA for help.
She said the dog saw a vet for "puncture wounds from the spines" and "was fine".
"It was just a bit too close to my house for comfort," she added.
The escapee was checked over by RSPCA officers and looked after at West Midlands Safari Park.
Bob Lawrence, from the safari park, said it had a minor wound that needed treatment with an antiseptic spray.
The RSPCA checked the repaired enclosure was suitable for the porcupine before it was allowed to return to Kings Heath.