Sandwell Council leader calls The Public 'giant shoe box'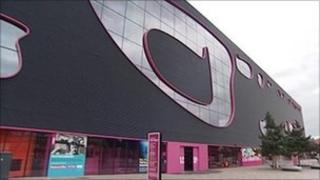 The Public arts centre is a "giant shoe box" and should not have been built when it was, Sandwell Council leader Darren Cooper has said.
Mr Cooper is part of the Labour group behind the West Bromwich building, which ending up costing £72m.
Now he has argued he always had doubts privately and stressed it is not viable in its current form.
But The Public managing director Linda Saunders has hit back and said the building is "iconic".
'Never too keen'
"To me, on the outside, it looks like a shoe box," said Mr Cooper, speaking to BBC WM.
"I am not trying to wind anyone up. I don't personally think it's an iconic building.
"Many people do. Some of my councillor colleagues think it's an iconic building. For me it looks like a giant shoe box with a few pink windows drawn round the outside."
The future of The Public is uncertain, with Sandwell Council in talks with bosses at Sandwell College about transforming it into a sixth form college to save money.
The building costs the authority about £1.6m every year.
Mr Cooper said he initially supported The Public scheme because of "cabinet collective responsibility".
But he added: "Behind the scenes when discussions were taking place I was never too keen."
52,000 visitors
He said this was because he anticipated the council would end up having to contribute a lot of its own money and he did not think this was right at a time when budgets were being cut.
"At the end of the day, to have diverted valuable resources into The Public arts centre, away from the core business of the council, was a mistake," he said.
"I don't think the building was a mistake, I just think the prioritisation of it at the time was a mistake."
The Public managing director Linda Saunders said she disagreed with Mr Cooper.
"We had 52,000 visitors last month and the reason people are coming is because it is iconic, it is exciting," she said.
"Everyone has put a huge amount of effort into making this building work."
The Public opened in 2008, two years behind schedule and millions of pounds over budget.