Cadbury Christmas gifts for ex-staff 'no longer viable'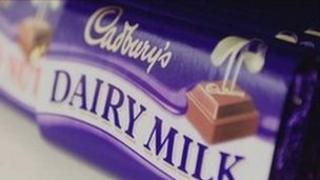 Up to 14,000 retired Cadbury workers have had their traditional festive food parcels stopped by its US owners.
The parcels included a Christmas card, sweets and chocolates and were posted to retired employees of the Bournville-based factory.
Retired staff this week received a final gift of a £15 voucher and a letter informing them of the decision.
Mondelez International said the move is "unlikely to be well received", but the gesture is "no longer viable".
Disgruntled ex-workers have now formed a protest on Facebook in a bid to change bosses minds at the US-based parent company.
'Long-term interests'
A spokesman for Mondelez said: "We understand this decision is unlikely to be well received but, as the custodians of the Cadbury Pension Fund, we hope members will understand we have a duty to make sure it's run efficiently.
"We face increasing pension costs at a time when the number of pensioners within the fund is rising annually and it's simply no longer viable to send 14,000 parcels out each year.
"We have the long-term interests of the pension fund at heart."
Former employees and Bournville residents are now petitioning the decision.
Steve Courtenay said online: "As someone born and brought up in Bournville, I always considered them to be a beacon of industry to be proud of - not any more."
Mondelez was formed in 2010 when Cadbury was purchased by US food multi-national Kraft, who split the business in two.
The firm has not disclosed how much they will be saving by scrapping the annual gifts.