E-book technology trial for West Midlands bus stop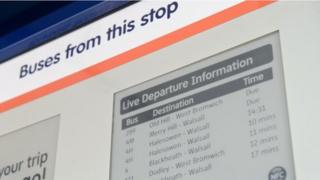 Electronic-book-style technology showing bus timetables, ticket prices and real-time service information has gone on trial in the West Midlands.
Transport authority Centro is using it at a bus stop in Halesowen Street in Oldbury and, if successful, it could replace other information methods.
Centro said the £50,000 prototype was being claimed by Birmingham consultants IBI Group as a world first.
It allows updates to be sent directly from a control centre to the device.
Passengers with smartphones can also use the displays to get more detailed information on the services.
'Easier to read'
Gareth Tyler, intelligent transport systems consultant with IBI Group said: "This is the first implementation of e-paper technology of this kind in the public transport arena.
"It opens the door to enhanced information being readily available to public transport users at bus stops and public places as well as offering significant cost savings and operational benefits to transport authorities such as Centro."
E-paper is designed to limit glare from sunlight and can be read from wider angles to make it easier for passengers to read.
The trial will last until December and Centro is urging passengers to give feedback on the system ahead of any decisions to roll out the technology on a wider basis.