Birmingham school opens for Gypsies and excluded pupils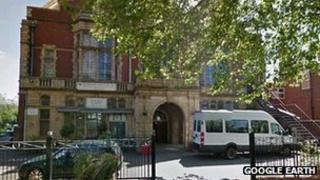 A new education centre has opened in Birmingham for children who do not have a school place or have been excluded from mainstream school.
Baverstock in the City targets Gypsy and traveller children, those for whom English is not their first language and pupils with challenging behaviour.
It is a Balsall Heath branch of The Baverstock Academy.
An application to turn it into a free school has been prepared, which would give it a capacity of 1,000 students.
'No place for them'
Thomas Marshall, head teacher of The Baverstock Academy, said: "There are close to 900 Gypsy Romany traveller children without a school place at the moment.
"The number of students with English as a second language is growing and growing across the city as people move into Birmingham and they don't have school places because they tend to move into the centre of the city where there aren't enough secondary schools."
He said his experience with teaching excluded students was developed at the academy which regularly made eight or nine permanent exclusions each year and had a very high number of fixed-term exclusions when he took over in September 2010.
"When they enjoy education they want to take part even further and achieve goals... The children want to be educated and there was no place for them," he added.
'Get on without bullying'
Damien Le Bas, editor of the Travellers' Times, said Romany Gypsies and Irish Travellers report problems with school that includes bullying and teachers that misunderstand their ethnicity.
He said: "People forget that in the 1960s lots of schools wouldn't accept traveller children so there is an historic cultural problem and it's no surprise we [Romany Gypsies and Irish Travellers] have the worst educational attainment in the country over all indicators."
He said traveller children can have an expectation they will take part in a family business, sometimes instead of school, from a young age.
"I welcome this focus on traveller education, though am not sure about separating students," he added.
"I benefitted enormously through being in a mixed school with people with high expectations, but I know some who wish they'd been able to be in a school just with travellers so they could get on without the bullying and other problems they faced."
About 30 students will be inducted to the centre at the Friends Institute on Moseley Road later and a further 50 are expected to start this academic year.