Birmingham City Council chief executive Stephen Hughes to retire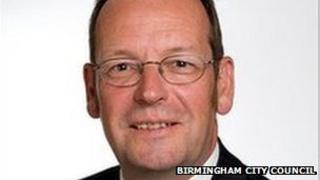 The chief executive of Birmingham City Council is to retire, prompting a management restructure which the authority claims will save £500,000.
Stephen Hughes, who earns about £200,000 a year, has said he will stand down after he turns 60 in February.
The council said it also planned to cut two senior director jobs as part of a restructuring of the management team.
It said some secretarial and support staff posts would also be lost but it hoped to minimise compulsory job cuts.
Under the restructuring plans, the council said it would merge its children's services department with its adults and communities department.
It also plans to merge its corporate resources section with its development and culture department.
'Shrinking' workforce
Council leader Sir Albert Bore said under the proposals the chief executive post would be replaced with a "lead officer" post.
"A reduction of our budget of £350m over the past three years means roles and responsibilities are changing," he said.
"The council employee base has shrunk from about 21,000 full time equivalents, it's down to around 14,000 by the end of this year and it will shrink again.
"In those circumstances you want a different management structure."
Sir Albert said he did not know exactly how many jobs would go as a result of the restructuring plans.
The proposals will go out to a 30-day consultation, the Labour-run council said.
In February, the authority announced up to 1,000 jobs were likely to be cut over two years under a £102m savings plan.