Hunt for 'armed' sex offence suspect Garry Foster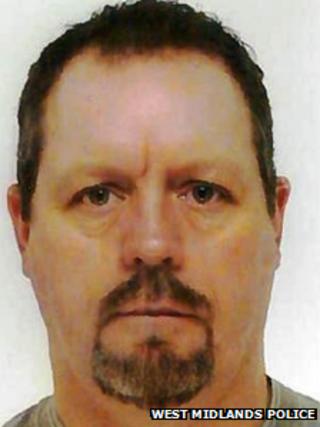 A missing man who is thought to be armed and living off the land is being sought in connection with sex offence allegations, police have revealed.
About 75 officers from West Midlands and West Mercia forces, supported by armed officers and a police helicopter, are searching for Garry Foster, 53.
He has been missing from his home in Dudley, West Midlands, since Sunday.
Police believe he is carrying a shotgun and using survival skills to live in remote countryside.
West Midlands Police said Mr Foster was a registered firearms licence holder.
They urged people not to approach him.
The force said it believed he might be living in countryside somewhere in Staffordshire, Shropshire or Worcestershire.
'Distressed and emotional'
Supt Andy Parsons said Mr Foster had disappeared from his home on Sunday afternoon "shortly after the sex offence allegations surfaced".
"These were of a serious sexual nature against people known to him and are part of a separate investigation by West Midlands Police," he said.
Police released photos of Mr Foster and his car, a blue-silver Mitsubishi Pajero with the registration number L216 PTO.
A roadside camera photographed his car in Worcestershire at 15:26 BST on Sunday but there had been no further sightings, police said.
"We're liaising with the farming community and urging them to be on the lookout for him and his vehicle and similarly are asking walkers or hikers to report any potential sightings," said Mr Parsons.
"He's known to practise his outdoor hobby across a vast area.
"It's an extensive potential search scene so we're really keen for members of the public to report suspected sightings or information that could lead us to locate him.
"Having spoken to family members we understand he was in a distressed, emotional state when he was last seen and given that he's not been seen for almost four days now we're growing increasingly worried."
Mr Foster is described as white, of medium build with dark but greying, receding hair, with a greying moustache and goatee beard.
He was last seen wearing a grey T-shirt and black jeans.